MAKING FRIENDS AND MICRO-INFLUENCING PEOPLE
15 February 2018
When it comes to influencing consumers, small is often best.
Many brands have learned the hard – and expensive – way that paying through the nose for big name digital influencers is not the marketing panacea they expected. True, big names have large numbers of followers but they often lack a true local community connection, and the impact they make can be diminished or undermined.
Savvy marketing professionals are waking up to the appeal of micro-influencers, whose attraction is genuine and whose engagement rates are more durable and longer lasting.
Kallaway has been working with micro-influencers across our campaigns for some time. A great example is the Baileys Women's Prize for Fiction, where our award winning campaign, included work with book influencers to target literary lovers which contributed to a massive 115% increase in organic reach and a 12% increase in organic engagements for the Prize.

The mainstream business media is picking up on the importance of micro-influencers. In March 2018, Forbes ran a story under the headline 'Micro-influencers: The Marketing Force Of The Future', and 'The Startup'was equally effusive in an article headed 'Why Micro-Influencer Marketing is 'The Game' in 2018'. They even put 'micro-influencer' in capitals, for good measure.
Articles such as these reinforce what many brand and marketing people already knew or suspected; when it comes to influencers, numbers are highly subjective, and big is not always best.
As Forbes says: "Although the range of the number of followers an influencer must have to qualify as a micro-influencer is subjective, I believe that it is someone who has anywhere between 10,000 and 500,000 followers on social media channels.
"It's not necessarily the number of followers as much as how engaged that audience is. Micro-influencers have specific niche audiences and are deeply connected to them."
Hear hear (although unlike Forbes, we reckon it's anywhere between 10,000 and 40,000 followers).
For best results, work with micro-influencers who have a genuine interest in a topic or place, which is central to the brand's offering. This will ensure a strong and genuine connection to tap into. For example, as part of our work for The Crown Estate's out of town retail portfolio we partnered with hyper-local bloggers around each retail park to help communicate the advantages of shopping at the outlet.
The result? The campaign helped grow traffic to the Crown Estate retail park's own digital channels by 75%, attracting over 15,000 new fans and 67,000 social media engagements. What's great about these results is that many of the fans secured are local people – directly relevant when driving footfall.
Outcomes like these illustrate how engaged the followers of micro-influencers can be and how follower engagement should be a key factor when identifying influencers to work with.
The graphs below illustrate the reasons why. Markerly's research found two things. First, an engagement paradox that shows the more followers a person has the lower level of engagement with those followers they're likely to have. Second, users with lower numbers of followers generate comments about 13 times higher than high follower numbers.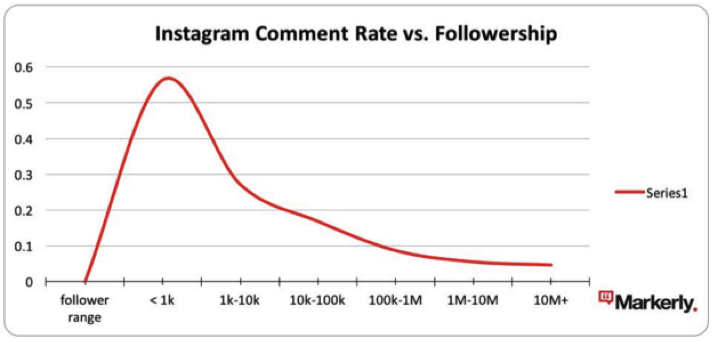 Engagement is even more important than the graphs suggest because Instagram has changed its algorithm to mirror that of Facebook's (for the changes, and what they mean for brands on Facebook, read out post about this here.) Like Facebook, Instagram is now more likely to show posts from profiles that users interact than those they just follow.
Encouraging genuine interaction between the brand, micro-influencers and their followers should be an integral part of your marketing campaign.
Micro-influencer targeted audiences can also be helpful when seeking to engage completely new audiences. For example, Chatham Historic Dockyard was not a brand that many millennial, cool hunters would naturally seek out. But by working with digital architecture and lifestyle influencers, we were able to take the stunning architecture of the Dockyard to new audiences in evocative and interesting ways that boosted reach and engagement.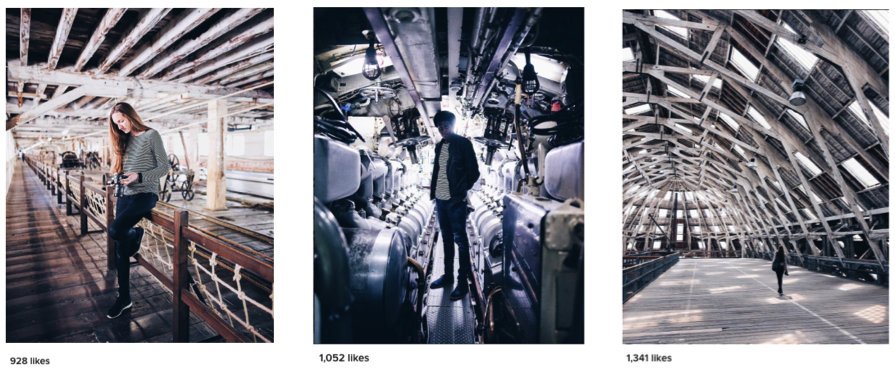 The key to getting this sort of engagement right is providing authentic experiences which the micro-influencer's audience group can also access, and to keep going with that engagement. Working with micro-influencers is not a silver-bullet to marketing challenges. Their engagement needs to be part of a well-planned, measurable communications plan with clear success metrics.
So where do brands find micro-influencers? Careful analysis of a brand's social analytics can reveal those 'home grown' influencers and super fans already passionate about the brand. They represent a good start point as they're already engaged and engaging. Other options include looking at the market place to discover which micro-influencers other brands are working with and why. Marketers can also access platforms such as www.whalar.com, back their instincts and pick from a list of influencers.
Or, better, use a specialist partner, such as Kallaway, which has done the research and has a track record of delivering excellent results.
If you want to understand how micro-influencers can help your business, please call Kallaway on 020 7221 7883 or email hello@kallaway.com