4 Cool Christmas Campaigns
5 December 2016
4 Cool Christmas Digital Campaigns on social media
December has arrived and the Christmas campaigns are in full swing!
Every brand wants to hit a social media home run, but who is really standing out this season? Our digital team picked four of the most intelligently innovative campaigns that they've seen.
1. John Lewis brings #BusterTheBoxer to life through Snapchat and VR
The long awaited John Lewis advert bounded onto screens in November spreading Christmas joy in the form of #BusterTheBoxer. Following its Twitter successes last year, John Lewis partnered with Snapchat to create a custom geo filter. 'Snapchatters' are able to add a filter to their pictures and morph into the loveable dog. We think it worked becuase Snapchat's playful interface is perfectly matched to the light-hearted tone of this year's John Lewis' campaign.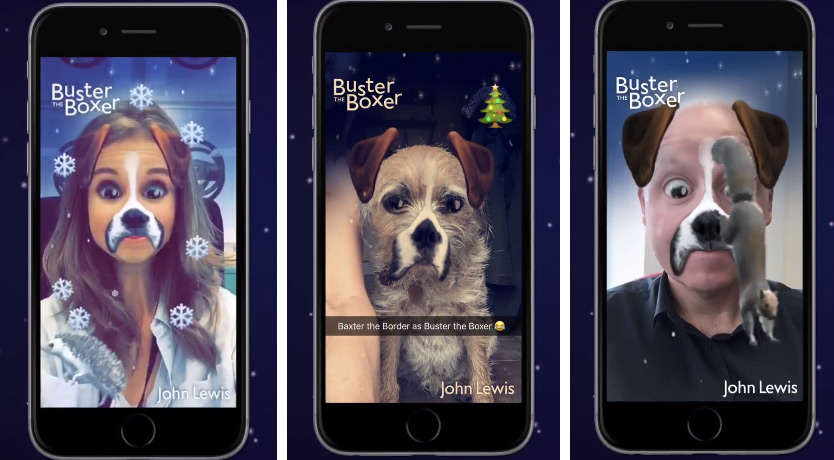 They're also making a big push into Virtual Reality this year with an Oculus Rift VR experience at their Oxford Street store, along with a 360 film available via Google cardboard. Here's our own Harriette M. playing with dogs and foxes...
2. Lidl gives customers the power with Social Price Drop
The Lidl Social Price drop offers customers the chance to lower prices via Twitter. Each week a new product is announced and the more Twitter love the product gets, the lower the price will drop…on Saturday a Serrano Ham dropped to £29.99. Giving an immediate real-world impact to social media engagement is an inspired move, and customers love it. It's simple premise that's creating a positive bond between Lidl and its customers. We're big fans of social campaigns that move beyond empty likes and we predict that you will see plenty of other brands launching similar projects in the near future.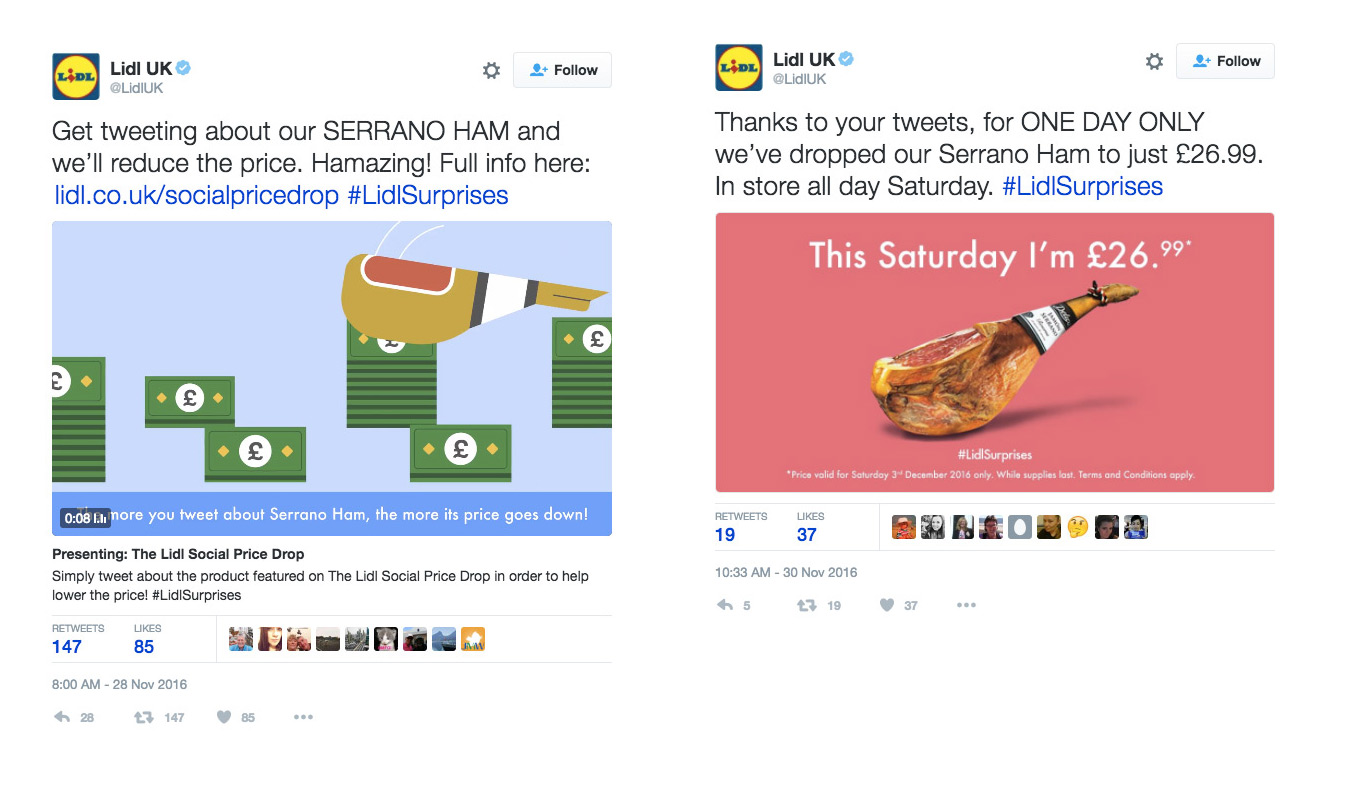 3. H&M invites us to #ComeTogether through interactive video
Earlier this week H&M revealed their Christmas campaign #ComeTogether. The piece d' resistance is a four minute festive film directed by Wes Anderson and staring Adrien Brody. It's classic Anderson style - think Grand Hotel Budapest, but on rails. Obviously it's gone viral on YouTube, notching up 5 million views and topping YouTube's #trending charts.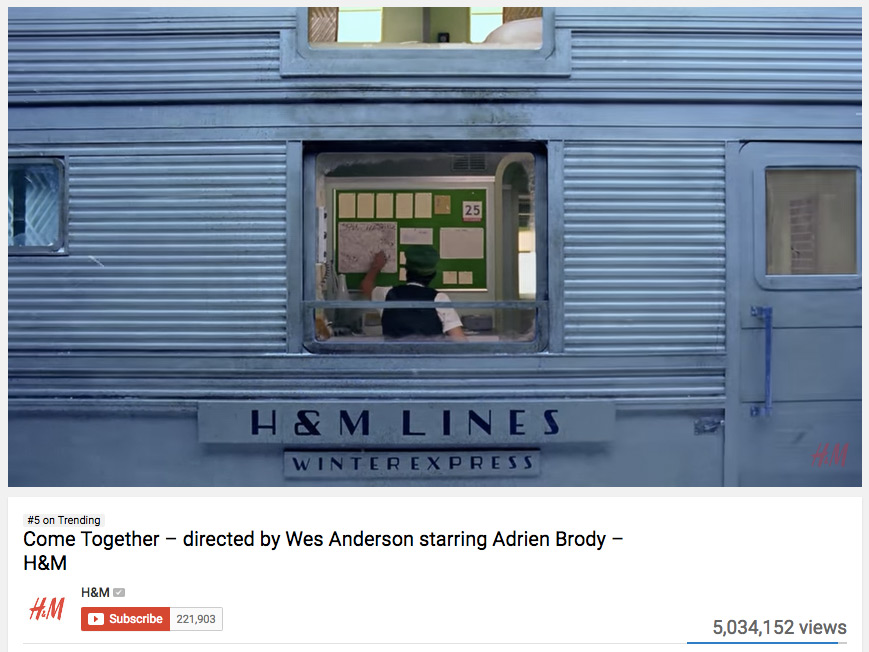 Over on the H&M US website, the video becomes interactive. Moving boxes pop up sporadically around the video with CTAs and additional content offering a different angle on the action. It's a smart way to elevate the video beyond "advert" and into an integrated shopping experience. This is a great example of building the Call to Action into the content itself, instead of trying to tack it on at the end.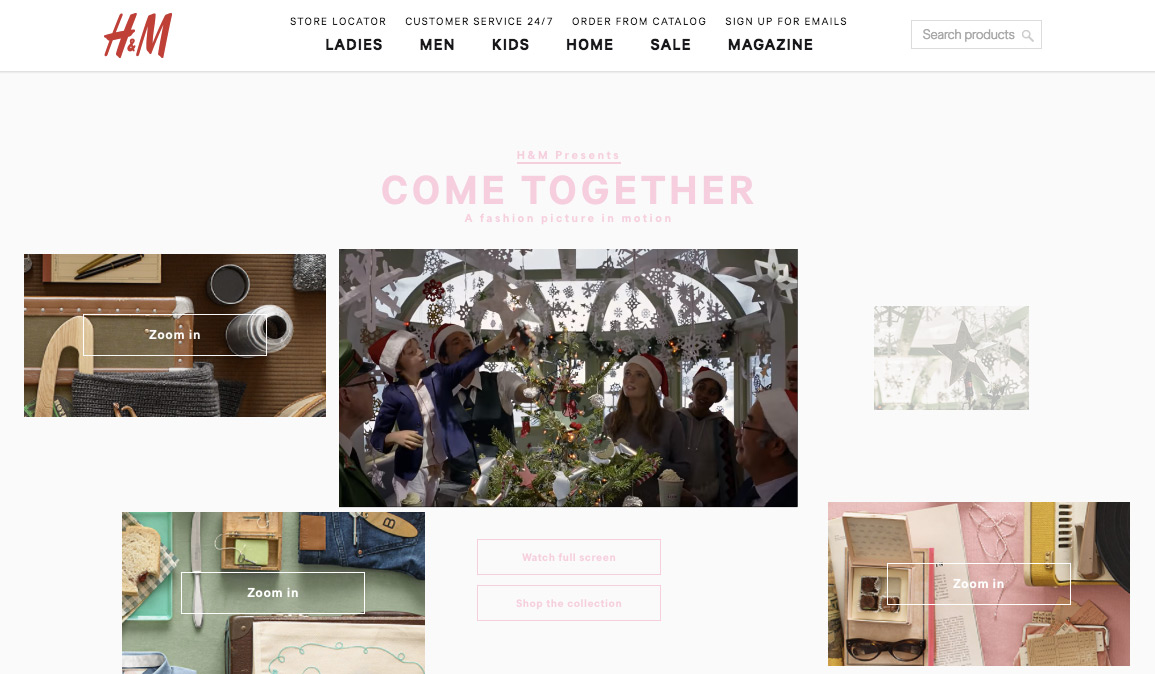 4. McDonalds trays come to life through an AR Advent Calendar
McDonalds have partnered with Amazon and Blippar to create an augmented reality experience that customers access through their meal tray liners. Throughout December every food tray in store will include an advent calendar. After downloading Blippar, customers hold their phone over the tray liner to open doors, revealing games, avatars and camera filters as well as the chance to win an Amazon card. It's a great way to integrate social into their retail environment, and they are offering free in-store high-speed WIFI to support such activities.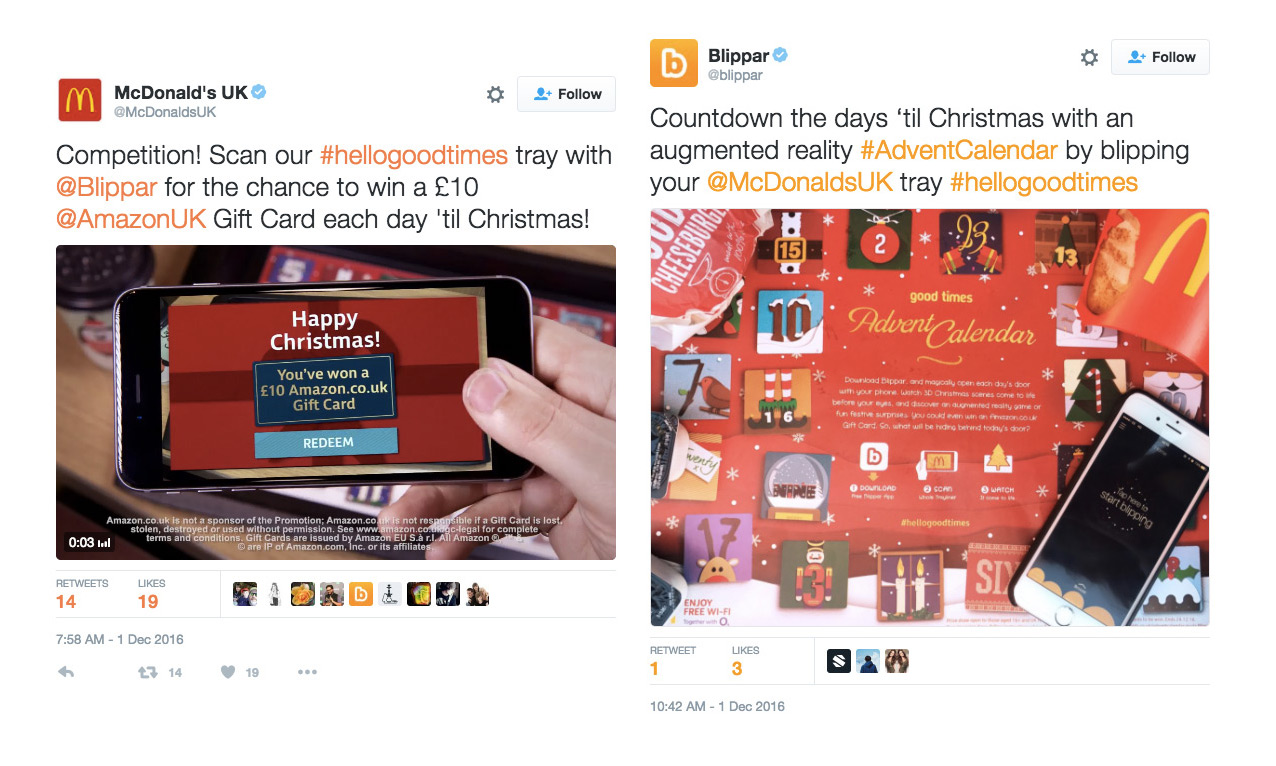 What does it mean for your brand?
Many of these are big budget campaigns, but there are two key lessons here that can be built into campaigns of any size:
Empower your customers by linking their social media engagement to real-world outcomes (such as earning a discount on an item or picking a product to go on sale). Social media is supposed to be a two-way relationship - this kind of activity is exactly what it was made for!
Think about your Calls To Action prior to planning and creating content. Each piece of content should lead to a desired outcome from your customers, and creating the content around this will maximise its effectiveness